THE FLAMENCO OF THE GRANAINOS
The tablaos del Sacromonte offer fabulous shows that attract thousands of tourists every year. However, the people of Granada do not usually go to them. Although the shows in Sacromonte are usually of high quality, the reason for this is usually the number of tourists who visit them. .
Apart from the caves of Sacromonte, Flamenco is experienced in the "peñas", in some bars, in the squares, in private homes, in the artisans who work their instruments, in the schools where the art is passed on, in the festivals and, in general, in the people who keep its flame alive. Authentic flamenco is usually spontaneous and improvised.
If you are looking for a tablao flamenco, go ahead, you will not be disappointed. But if you're looking for non-tourist-oriented flamenco in Granada, read on.
FLAMENCO CLUBS OF GRANADA (PEÑAS FLAMENCAS)
The peñas (flamenco clubs) bring together fans, flamencologists, artists and any kind of person who loves the art of flamenco. They are usually constituted as an association and access is sometimes limited to members. There you can listen to flamenco, but also study, debate and share knowledge.
PEÑA DE LA PLATERÍA (Albaicín)
This is not just any old Peña Flamenca in Spain(and therefore the world). It was founded in 1949 and began a tradition of wide projection, especially in Andalusia. The seed of La Platería can be traced back to the gatherings and evenings at the Polinario (a famous bar in the Alhambra itself) where people like Manuel de Falla, Federico García Lorca and Isaac Albéniz and others were interested in cante jondo or cante primitivo.
La Peña was born in a silversmith's workshop in San Matías street (Realejo neighbourhood) owned by Mr. Manuel Salamanca Jiménez. Gathered around a tablethey smoked, drank and ate while the gramophone played, alternating with the singing of those present. Subsequent debates and even performances by professionals took place. It was set up at a time when flamenco was outlawed, under surveillance by the Franco regime and linked to people of dubious reputation. In fact, a policeman attended every meeting.
Its initial historical members were painters, antique dealers, doctors and some foreigners, but also people of lower social rank, artists or simply amateurs.
After the workshop in Calle San Matías, the peña passed through various private houses, basements, bars and galleries. In 1970, thanks to the efforts of its president, Manuel Martín Liñán, it arrived at the current carmen de los Toqueros in the Albaicin.
Between 1977 and 1983 he organised his own singing competition, La Platería. He also collaborated in the organisation of the Festival de Cante Jondo de 1961 and the Festival Internacional de Música y Danza among others.
The Peña de la Platería has hosted the main flamenco figures of the second half of the 20th century as well as personalities of Spanish and international culture and politics. Its seniority, the involvement of its members, exhibitions and participation in congresses, competitions and festivals have earned it the highest prestige in the world of Flamenco.
On Thursdays from 22:00 the Peña Flamenca de la Platería is open to non-members. The rest of the days you can enjoy a good meal on the terrace overlooking the Alhambra.
PEÑA LA PARRA FLAMENCA (Huétor Vega)
The Peña La Parra Flamenca is a cultural association from Huétor Vega (village next to Granada) founded in 1981. Its name comes from the bar where the first meetings of a group of flamenco enthusiasts were held.
Its aim is "to promote Flamenco as a very important part of the Andalusian Culture". For this purpose the Peña organises singing, dancing and guitar recitals. From here it has organised 12 festivals, 12 flamenco Christmases, training days, exhibitions, flamenco evenings and numerous cultural visits.
By the Peña la Parra Flamenca both professional and amateur artists have performed here. Figures of the stature of Niña de la Puebla, José Mercé, Gabriel Moreno, Curro de Utrera, Nano de Jerez, José Menese, Estrella Morente, Manolo Liñán, Luis de Luis, Eva "La Yervabuena" and Pepe Habichuela among many others have performed here.
It has as members of Honour Juan "Habichuela" and Enrique Morente. It has awarded its gold insignia to Juan Valderrama, Antonio Fernández "Fosforito", Carmen Linares, Chano Lobato, the painter David "Zaafra" and the journalist Juan Bustos. In the video you can see José Mercé and Juan Habichuela in the Parra Flamenca.
Flamenco is played at least twice a month in this peña. Access is priority for members and free until full capacity is reached. Miguel Bañós, its director, tells us that there is always room for everyone. On their web you can find information about the days when there is live art.
PEÑA FLAMENCA EL FRASQUITO (Cúllar Vega)
The origin of this peña goes back to a series of meetings in 1968. At that time it was called the "Tertulia de los jueves". A group of flamenco enthusiasts would meet to discuss and sing improvised songs.
They soon began to echo and people linked to the world of flamenco art, both from Granada and abroad, began to pass by. In 1979 the association Peña Frasquito Yerbabuena (in honour of the illustrious flamenco artist) was formally constituted. Although the peña disbanded for a few years, festivals continued to be held. .
Finally in 2010 the peña resurfaced and, as stated on its website, "since then it has worked on the dissemination, safeguarding and projection of flamenco in all its fields". This is the venue for top quality performances of Andalusian flamenco. To find out the dates, it is best to consult their Facebook page, which they keep up to date.
Other flamenco peñas in the surroundings of Granada are: Peña Flamenca La Zahareña (Monachil), Peña Flamenca la Yerbabuena (Ogíjares), Peña Flamenca Solera y Caña (Maracena) and Peña Flamenca Amantes del Flamenco (Peligros)..
VIMAAMBI ART WORKSHOP
It is not a typical flamenco peña, but it is an association of artists that pays special attention to flamenco. It was founded in Granada in 1992 to promote contemporary art "by all means available". It has a programme of 4 sections: music, plastic arts, poetry and cinema.
Every Flamenco sounds every Friday and Saturday at 21:00 in its concert hall. Their show, "Raiz y Duende" is directed by María de los Ángeles Argote Molina (MAAM), one of its founders. In addition, on some Thursdays there are monographic performances by prominent artists or their own popular flamenco "jam-session".
It is located on the slope of San Gregorio, in the heart of the Albaicín. To access it you need to be a member. And to be a member you just need to provide your details, as you only pay for the performance.
EL TABANCO DEL TÍO GREGORIO. FLAMENCO AND JAZZ ASSOCIATION
The young association of El Tabanco is another of those places to experience flamenco in Granada. Since 2005 it offers flamenco art, jazz, training and is an exhibition hall during the day. .
In this small sanctuary of flamenco you live intimately and in contact with the artist. The small size of the venue makes it possible to get close to the musicians and singers. Each event becomes something very personal, something that is difficult to find nowadays.
During the day there are guitar and singing classes and exhibitions of painting, photography and sculpture. It also has a small professional recording studio. Illustrious artists such as El Yerbita, El Niño de las Almendras, Emilio Maya, Juan Moneo "El Torta", Rafalín Habichuela, Antonio Carmona, Pepe Luis Carmona Habichuela, Jorge Pardo,… have performed here.
It is located in the Albaicín neighbourhood, on the Cuesta de San Gregorio itself and every Thursday and Friday there is a show.
If YOU WANT TO MEET SPECIAL FLAMENCO PEOPLE IN GRANADA DISCOVER "FOLLOW THE RHYTHM". 👇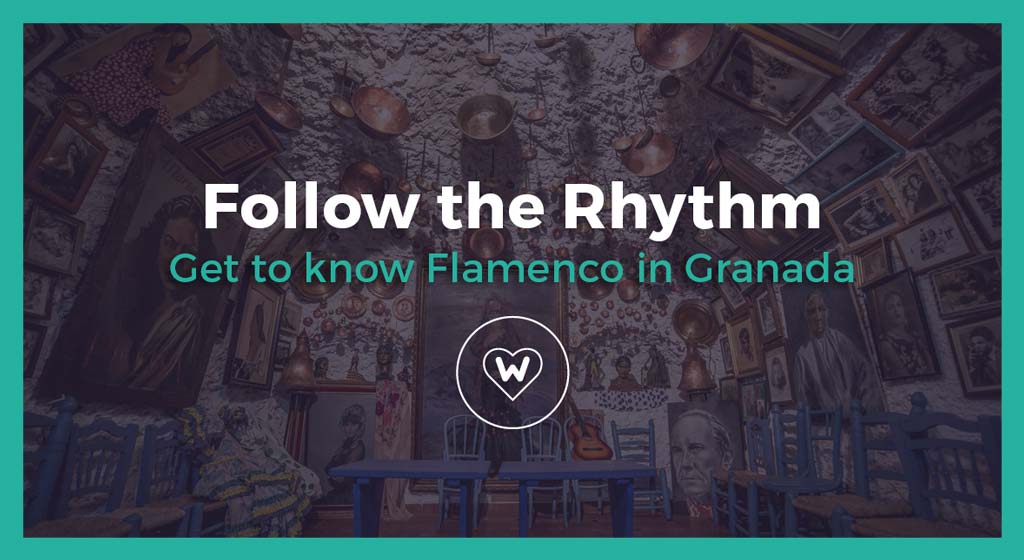 BARS WHERE YOU CAN LISTEN TO FLAMENCO IN GRANADA
ESHAVIRA CLUB
The Eshavira Club is an emblematic flamenco venue in Granada. It is a flamenco and jazz club that was founded in 1989. It quickly gained fame in Granada's nightlife due to the quality of its concerts. It is also a reference point for Granada's nightlife because it closes late at night.
It is a unique place with tradition. Here you live flamenco and experience something authentic. Marina Heredia, Vicente Amigo, Mario Maya, Yehudi Menuhin, Jorge Pardo, Chano Domínguez, Estrella Morente, Marina Heredia, Pepe Habichuela, Salvador Font and Rubem Dantas have all performed here. Although sometimes, as a good flamenco venue, art is also improvised. .
This flamenco club is located in a small alley close to Calle Elvira, Calle Postigo de la Cuna.
EL ENCUENTRO (Rotisserie)
"In the heart of Granada, a unique place where the passion for flamenco merges with an elegant and high quality cuisine". This is how they define themselves and their description is not wrong. In the heart of the Realejo neighbourhood you can taste some of the typical gastronomy of Granada. Every Thursday and Friday there is a live flamenco show. But beware, it's not a flamenco show, it's a restaurant that offers a show to its customers. Leo, the owner, tells us that they want to show the flamenco soul of Granada and maintain the tradition.
Local artists, local atmosphere, quality food and good service; all this is what people who visit this Flamenco grill highlight.
TACÓN FLAMENCO
It is a Flamenco tavern where you can have dinner and listen to live flamenco. Here you can listen to Flamenco singers from Granada every Friday night. There is no stage or scenery, the artists are in contact with the audience. It is one of those flamenco places for local people with local artists. The monthly programme can be found on their Facebook and admission is free.
MONUMENTS TO FLAMENCO IN GRANADA
MARÍA LA CANASTERA
At the Avenida de la Constitución there is a sculpture that pays homage to María la Canastera, a iconic icon of flamenco in Granada. María Cortés Heredia was a singer and dancer from Sacromonte who became famous for her art. She was born in 1913 and her artistic name comes from her father's trade. Wickerwork was one of the most widespread professions among the Gypsy people.
By popular vote she is considered one of the 100 most important people of the 20th century in Granada. But his art transcended the rest of Spain. At the age of 16 he travelled to Barcelona to participate in the Universal Exposition. There he performed with Carmen Amaya before King Alfonso XIII. The zambra, perhaps the purest flamenco palo from Granada, was his hallmark. He participated in television programmes, recorded 19 successful albums and died at the age of 52 in 1966.
Actors such as Anthony Quinn, Alain Delon, Henry Fonda and Ingrid Bergman have passed through his cave in Sacromonte, which is still open to the public.
MONUMENT TO FLAMENCO
If we move away from the historic quarter and approach the Paseo del Violón we will find a "Monument to Flamenco". A thick pillar supports a frieze of the famous Macael marble (locality of Almeria) and a bronze sculptural composition with three characters. .
The frieze shows 8 women symbolising the 8 Andalusian provinces. The characters represent a singer expressing himself with his hands, a bailaora (female flamenco dancer) in a tailed costume and a guitarist playing as it was done in the olden days. .
This monument to flamenco pays homage to the "Concurso del Cante Jondo", a historic event for flamenco held in the Alhambra. The contest, promoted by Manuel de Falla and Federico García Lorca, aimed to highlight the value of the old cantes that were being lost. We'll tell you more about it below, when we talk about flamenco venues.
STATUE OF MARIO MAYA AND PASEO DE LOS TRISTES
At the beginning of the Paseo de los Tristes you will find a statue of Mario Maya Fajardo. This was one of the most complete and genuine choreographers and dancers of flamenco. He was born in Cordoba, but he settled in Granadawith his family at a young age. He studied in Madrid and went on to tour Latin America. Years later he moved to New York where he will have a great activity of recitals. Ten years later came his first great success, "Camelamos Naquerar", since then he has been receiving awards for his work and career. In the 1980s he founded the Mario Maya Centre for the teaching of flamenco, classical dance and jazz in Seville, and in the first decade of the 21st century he directed the flamenco school of La Chumbera (in Sacromonte, Granada).
In 1961 the Festival de Cante Jondo de Granada, a mythical event that tried to recuperate the spirit of the Contest of 1922 (we tell you about it below), was celebrated in this square. For a few days in June the houses were decorated and the Town Hall awarded a prize of 11,000 pesetas (66 €, which for the time was not bad) to the most beautiful façade. In addition, local residents were asked to turn off the lights in their houses once the festival began "so that the effect and contrast would be complete".
OTHER FLAMENCO PLACES AND EVENTS IN GRANADA
THE OLD POLINARY TABLE
Little remains of that former tavern in Calle Real de la Alhambra from the late 19th and early 20th centuries. In 1934 the establishment passed into the hands of the Patronato de la Alhambra, as it was located over the hammam of the mosque of the aljama. Nowadays you can visit the Arab bath and the small museum Ángel Barrios. The Barrios family was the owner of the Polinario. The father, Antonio, already gathered aficionados around singing and guitar playing in the tavern. His son Ángel, an international concert pianist and composer, came into contact with many intellectuals of the time who came to the Polinario in search of tertulias music, art and Andalusian traditions. He established friendships with painters such as Zuloaga and Rusiñol, composers such as Falla and Albéniz. There, together with Federico García Lorca, the 1922 Concurso de Cante Jondo was born.
It is well worth a visit, especially if the Ángel Barrios Museum is open. It houses various personal objects, musical instruments, paintings and correspondence between Ángel Barrios and his friends. Access to the hammam and museum is free, no Alhambra ticket required.
PLACETA DE LOS ALJIBES Y CONCURSO DE CANTE JONDO DE 1922
La placeta de los Aljibes in the Alhambra is another of those mythical places of flamenco in Granada. It is a square located between the palace area and the Alcazaba. Access is free, it is not necessary to have a ticket to the Alhambra. Its name derives from the large cisterns on which the square is built.
On the 13th and 14th of June 1922 the Concurso de Cante Jondo was celebrated in that place. This contest was intended to dignify this ancient flamenco art and was the first of its kind. The value of this contest was not so much the event itself as the enormous and unique repercussion that followed.
Federico García Lorca and Manuel de Falla along with many other intellectuals, artists and politicians of the time promoted the Concurso de Cante Jondo. They alluded to the danger of a purely national musical translation. "The artistic treasure of a race is on its way to oblivion" said Lorca. They defined it as the recovery of the "primitive Andalusian singing", the pure and deep singing. Despite being shrouded in controversy, the main figures of the time attended. .
It was organised by the CALC (Centro artístico, literario y científico de Granada). It was the model and precedent for all subsequent competitions and festivals. Especially the Concurso Nacional de Arte Flamenco de Córdoba and the Festival Internacional de Música y Danza. Although the contest did not bear the expected fruits, it has been the most relevant flamenco event in the history of flamenco art.
Wow! That was a bit of a long article.
We'll leave the festivals and theatres where you can feel flamenco in Granada for another post.
MAP OF FLAMENCO IN GRANADA
To find all the flamenco venues in Granada that we mentioned in the post.
For the writing of this article we have had the help of good friends and connoisseurs of flamenco in Granada.
Miguel Baños. Director of the Peña la Parra Flamenca.
Emilio Lentisco: Guitarist in love with Granada.
Juan Pérez: A Granada native with a passion for flamenco.