If you have arrived here, it is because you are passionate about museumsor you want to discover a new museum in Granada. Congratulations, you're in the right place. We're going to show you the main museums in the city, but we're also going to tell you about the small museums and exhibition halls. Here we go!
*Official activities and opening times are included, but please confirm with the specific museum. THE LOCATION OF EACH MUSEUM CAN BE FOUND IN THE FINAL MAP.
FINE ARTS MUSEUMS IN GRANADA
MUSEUM OF FINE ARTS
Located on the top floor of the Palace of Charles V, in the Alhambra complex, it is the largest public art gallery in the city. In its rooms you can admire beautifully crafted sculptures and magnificent paintings spanning from the end of the Middle Ages to the present day. Like many other museums, the origin of the collection was the disentailment of Mendizábal in 1837, although it has been enriched by later additions. Try to take a leisurely stroll through the history of painting over 500 years and stop at the ones that most appeal to you. We recommend: The Burial of Christ, by the Florentine master Jacopo da Torni; the relief of The Virgin and Child, sculpted in walnut wood by Diego de Siloé; the Old Town Hall of Granada, by Mariano Fortuny (1873); Landscape of the Sierra Nevada by Antonio Muñoz Degrain (1920).
TICKETS AND TIMETABLES
The entrance fee is €1.5. However, access is free for EU citizens and other groups such as students, pensioners, etc.
From 17 June to 30 September.
Tuesday to Saturday: 09:00 to 15:00

Sundays and holidays: 09:00 to 15:00

Mondays closed
From 1 October to 31 December.
Tuesday to Saturday from 09:00 to 18:00

Sundays and holidays from 09:00 to 15:00

Mondays closed

Closed 1 and 6 January, 24, 25 and 31 December
ACTIVITIES
They organise activities for Museum Day, Christmas and other important dates. They also have activities for children: workshops, drawings and specialised guided tours. The best way to find out about each activity is through their Facebook page.
CENTRO JOSÉ GUERRERO
It is a joy to stroll through the historic centre and suddenly come across a temple of avant-garde architecture and painting. The José Guerrero Centre ooccupies a privileged location: opposite the Royal Chapel, on Calle Oficios. It is an art gallery managed by the Provincial Council where you can see some of the works of the Granada painter José Guerrero(1914-1991). Other exhibitions of works by contemporary artists are shown on a cyclical basis. The centre is housed in a building erected in 1892 that has been used for various purposes. It is worth seeing for its impeccable architectural restoration (2003) with large, bright, open spaces.
TICKETS AND TIMETABLES
Admission is free.
Tuesday to Saturday and public holidays: 10:30 to 14:00 and 16:30 to 21:00

Sundays: from 10:30 to 14:00

Mondays: closed
ACTIVITIES
The José Guerrero Centre organises free workshops for children, activities linked to temporary exhibitions, talks, guided tours every Tuesday and small musical eventsat the José Guerrero Centre.
RODRÍGUEZ ACOSTA FOUNDATION
Our tour of the museums of Granada continues with a symbol of modernity and tradition. The carmen/museum is located on the hill of the Aguadores, close to Torres Bermejas and the Alhambra. José M. Rodríguez Acosta (1916-1924) built it to house his painting studio between 1916-24, but the painter's legacy dates from 1941. You will be able to contemplate its suggestive gardens, its views over the city, the collections and personal objects of the founder and one of its main attractions: theunderground galleries. The Carmen also houses an archaeological and artistic collection from the legacy of another illustrious Granadino, Manuel Gómez-Moreno Martínez. El Carmen and the gardens were declared a National Historic Monument in 1982.
TICKETS AND TIMETABLES
All visits are conducted by Foundation staff. There is a general tour which costs 5 €; a more complete tour for 10 € and a free tour during the last shift on Fridays and Sundays. Here you can find more informationhere.
Monday to Sunday: 10:00 h. to 14:00
ACTIVITIES
Workshops are organised in winter and summer for children. But they also have a very complete educational programme and family visits.
CASA DE LOS TIROS
It is the most appropriate place to learn about the past, customs and ethnography of the city. You will do so through artistic, documentary and/or literary productions. It is located at the beginning of the Realejo (C/ Pavaneras) in an old mansion dating back to the 16th century. One of its main rooms, the Cuadra Dorada, contains paintings of characters related to the conquest of Granada in 1492. The palace owes its name to the artillery piece on its battlements.
From the residence of the Granada Venegas lineage, it passed into the hands of the State in 1921. The museum was enriched with various contributions: drawings, engravings, lithographs, photographs and plans. It also has pieces of local craftsmanship such as pottery, lanterns, fabrics, bibliographic collections on the subject of Granada, travels, publications, serials, pamphlets, posters and newspapers. An ideal place to soak up orientalism, customs, bourgeois furniture and southern nobility.
It is not a Fine Arts museum as such (it would be more of a monographic or city museum), but we place it in this category because a large part of the visitable collection consists of paintings and sculptures.
TICKETS AND TIMETABLES
Admission is free, except for non-European residents, which costs €1.5.
From 16 June to 30 September
Tuesday to Sunday: 09:00 to 15:00

Open all public holidays

Mondays closed
From 1 October to 31 December
Tuesday to Saturday: 09:00 to 21:00

Sundays and holidays: 09:00 to 15:00

Mondays closed
ACTIVITIES
This is the venue for book presentations, workshops, small musical performances, temporary exhibitions and school visits.
MUSEUMS OF ARCHAEOLOGY IN GRANADA
We continue our tour of the museums of Granada. Now it is the turn of those exhibiting archaeological collections.
MUSEUM OF THE ALHAMBRA
If Andalusian art is your thing, this is the museum for you. Its origins date back to the first collections of the 19th century. Its exhibition discourse will take you from the first centuries of Islam in the Iberian Peninsula to the expulsion of the last Moors. You will find everything from everyday items such as jars, lamps and braziers, to the most sumptuous Nasrid objects: the Gazelle Vase, an inlaid cupboard door and the King Badis Basin.
Architecture plays an important role. A huge metal chandelier, palace lattices, tiles of all kinds and the enormous Dos Hermanas gate are some of the wonders of this museum.
TICKETS AND TIMETABLES
Admission is free.
From 15 October to 31 March.
Wednesday to Saturday: 8:30 to 18:00

Sunday and Tuesday: from 8:30 to 14:30

Monday: closed
From 1 April to 14 October.
Wednesday to Saturday: 8:30 am to 8:00 pm

Sunday and Tuesday: 8:30 to 14:30

Monday: closed
ACTIVITIES
This is a particularly active museum. Almost every weekend of the year there are lectures on the piece of the month. Drawing and research activities are frequent, both for schoolchildren and for visitors and families.
On key dates such as Easter, Christmas or Museum Day, gymkhanas, talks, drawing competitions, workshops, etc. are held. All activities are free of charge.
ARCHAEOLOGICAL AND ETHNOLOGICAL MUSEUM OF GRANADA
Artistic for its beautiful and rich façade and its beautiful Renaissance courtyard, suggestive for its collections and accessible for its location on the populous and touristy Carrera del Darro. The Castril Palace takes its name from the Lordship of Castril (16th century), granted by the Catholic Monarchs to their secretary, Hernando de Zafra, to whom the building was given. However, the Museum was founded in 1879 and installed in 1923. It has been closed for 9 years, but fortunately it was reopened in 2018. It exhibits a very select selection of pieces found in the province of Granada from Prehistoric to Medieval times. So we can contemplate the cream of Iberian, Phoenician, Roman and Arab archaeology displayed with modern museographic criteria and materials. Of all the museums in Granada, this is our favourite!
TICKETS AND TIMETABLES
Admission is free, except for non-European residents, which costs €1.5.
From 16 June to 30 September
Tuesday to Sunday: 09:00 to 15:00

Open all public holidays

Mondays closed
From 1 October to 31 December
Tuesday to Saturday: 09:00 to 21:00

Sundays and holidays: 09:00 to 15:00

Mondays closed
ACTIVITIES
They have an educational programme for schoolchildren, but do not have many activities.
MUSEUMS OF SCIENCE AND FAMILY
The themes of Granada's museums are diverse, especially the science museums are a great attraction for the youngest visitors.
GRANADA'S SCIENCE PARK
This is one of the most modern museums in Andalusia and without a doubt, one of the best things to do with children in Granada. You'll find exhibitions on the human body, geology and animals. The Biodomo is a small zoo where you can see some tropical species up close. It also has an extraordinary Planetarium and an observation tower with unique views. The Butterfly Farm and flights of birds of prey are some of the highlights of its activities. Here we tell you everything you need to know to visit the Parque de las Ciencias Granada.
TICKETS AND TIMETABLES
Museum, Biodome and Planetarium are paid separately and each space has 3 types of ticket: general, reduced and school. Prices range from €5 for school children to €7 for general admission, plus the Planetarium and Biodome complements.
Tuesday to Saturday: 10:00 to 19:00

Sundays and public holidays: 10:00 to 15:00

Mondays: closed
ACTIONS
A thousand and one. Every day a multitude of workshops on astronomy, botany, physics, chemistry, birds of prey, etc. are held. The activities are included in the entrance fee but it is necessary to arrive in good time or sign up in advance because some of them are in great demand. The workshops vary throughout the year so it is best to find out when you arrive at the museum.
MUSEUM MEMORY OF ANDALUSIA
This is perhaps one of the lesser known museums in the city, although it is one of the most interesting for learning about Andalusian culture and for visiting with the family. One quality of this museum is its approach to make knowledge easy. Its exhibition has many especially attractive didactic resources: images, models, objects, audiovisuals, interactive multimedia. The other main pillar is education in values and respect for cultural, natural and social heritage.
TICKETS AND TIMETABLES
The ticket price is 5 € general admission; 4 € reduced for people with disabilities and over 65 years old; and free for teachers, unemployed and children under 2 years old.
Tuesday to Friday: from 9:30 to 14:00

Saturdays: 11:00 to 14:00 and 16:00 to 18:00

Sundays and public holidays: 11:00 to 14:00

Mondays: closed

August: closed
ACTIVITIES
Another strong point is the activities. Almost every weekend there is a workshop, storytelling, an exhibition, etc. They have a series of activities for babies from 6 to 36 months. In them they work with the 5 sensesthrough textures, smells, sounds, lights and shadows. Find out more on their official website.
MUSEUMS OF CHRISTIAN ART IN GRANADA
Christian art plays an important role in the museums of Granada, let's discover it.
CASA MUSEO SAN JUAN DE DIOS
The House of the Pisa family is named after the wealthy and powerful family who decided to build it in the 15th century, shortly after the Catholic Monarchs took the city. Saint John of God, was welcomed in this mansion to cure him of his illness, dying in 1550. The Hospitaller Order of Saint John of God acquired it in the 19th century. The religious institution has now converted it into a large and very rich museum housing a number of paintings, sculptures, pieces of gold and silverware, furniture, porcelain and iconography of Saint John of God.
TICKETS AND TIMETABLES
The ticket price is 4 €.
Monday to Saturday: 10:00. to 14:00 (last show at 13.30)
ACTIONS
Organise open days on important dates, Christmas cribs and charity book fairs.
CATHEDRAL MUSEUM
The conquest of the Nasrid kingdom of Granada at the end of the 15th century ushered in the new Christian-Castilian era. Numerous powerful religious buildings were erected, the Cathedral being the most spectacular and significant of them. Its artistic treasures have been expanded over the centuries. The most outstanding architects, silversmiths, ceramists, painters, carvers… have provided us with impressive works of great artistic value. The material wealth and ideological influence of the Church, always driven by a legion of clerics with the archbishop at the head, allows us today to contemplate works of incalculable value and singular beauty. The very size and location of the monument, situated in the heart of the old city, allows us to contemplate different architectural styles (mainly Renaissance and Baroque) and to admire hundreds of artistic objects in various forms and materials.
TICKETS, TIMETABLES AND ACTIVITIES
To access this museum it is necessary to visit the cathedral. No activities take place.
CAN YOU IMAGINE A TOUR THROUGHOUT THE HISTORICAL CENTRE OF GRANADA?
Click on the banner to find out more!
ROYAL CHAPEL MUSEUM
For the Catholic Monarchs, the conquest of Granada was the unity of practically all of Spain and the symbol par excellence of the victory of Christianity over Islam. This was one of the reasons why they decided to be buried in the Royal Chapel of the Cathedral. The rich artistic and historical collection is made up of objects of different types: jewellery, relics, ornaments, books, tapestries and paintings. Highlights: the altarpiece of the Main Chapel (the work of F. Bigarny and Alonso Berruguete in 1522); the tombs of the Catholic Monarchs, Juana la Loca and Felipe el Hermoso; the Plateresque grille by Bartolomé de Jaén or the altarpieces-reliquaries by Alonso de Mena. Example of flamboyant Gothic in the midst of the Renaissance, the Royal Chapel was declared a Historic-Artistic Monument (1884) and an Asset of Cultural Interest (1985 and 1991).
TICKETS, TIMETABLES AND ACTIVITIES
The entrance fee is €5 and includes an audio guide. There are reduced prices for different groups. No special activities are organised.
Monday to Saturday: 10:15 to 18:30

Sundays and non-liturgical public holidays: 11:00 to 18:00
MUSEUM OF THE ABBEY OF SACROMONTE
Located on Mount Valparaiso, from where the silence and the views over the Darro, the Alhambra and the city are impressive. The Abadía del Sacromonte shows us the cultural and religious past of the city, vital for understanding the Granada of the Counter-Reformation. It consists of the Holy Caves, the 17th-18th century Abbey, the 17th century College and the Seminary. The new museum (2010) is located on one side of the courtyard and is divided into four monographic rooms. The building houses numerous works of art by artists who lived in Granada during the 16th and 17th centuries, such as incunabula and codices, Arabic manuscripts, various objects of worship, tapestries and a collection of vestments. Plumbeous books and plates that were used for engravings, such as the Granada Platform by Ambrosio de Vico, are of particular interest. The Abbey is usually a secondary choice for museums in Granada as it is somewhat remote, but it is well worth a visit.
TICKETS, TIMETABLES AND ACTIVITIES
The entrance to the museum is included in the entrance fee to the Abbey. It costs €5 for the most basic ticket and includes an explanation for about an hour. Extraordinary activities are not usually organised.
Monday to Sunday: 10:30 am to 6:00 pm
MUSEUMS ABOUT PEOPLE
Now it's time to take a look at the museums in Granada that talk about illustrious people from Granada, or outsiders who fell in love with the city.
ÁNGEL BARRIOS MUSEUM
Granadian guitarist and composer Ángel Barrios has a small museum in what was once the Taberna del Polinario de la Alhambra. This tavern, owned by his father, was the meeting place of some of the most important figures of the cultural scene of the time: Albéniz, García Lorca, Falla, etc. In the museum you can see paintings, watercolours, drawings, musical instruments and correspondence between Ángel and his friends. The curious thing about what is probably the smallest museum in Granada is that it is located in the hammam of the old mosque of the Alhambra.
TICKETS, TIMETABLES AND ACTIVITIES
Admission is free, but it is currently closed for renovations. No activities are taking place.
CENTRO FEDERICO GARCÍA LORCA
Granada and Lorca. The place chosen to house its documentary collection is a modern and spacious building in the Plaza de la Romanilla, a stone's throw from the Cathedral. It was one of the last museums to open in Granada. The centre has not been without controversy, as its minimalist design has not been to everyone's liking, as it is located in the very heart of the historic centre of the city. It incorporates artistic manifestations from the international scene as well as the development of a extensive work in pedagogical action. It is an open, creative and educational place. In its very large and beautiful rooms, temporary exhibitions are organised with its own funds or on temporary loan for the knowledge of the figure and work of Lorca.
TICKETS AND TIMETABLES
Admission is free.
Tuesdays, Wednesdays, Sundays and public holidays: 11:00 to 14:00

Thursday to Saturday: 11:00 to 14:00 and 16:00 to 19:00

Monday closed (except some Bank Holiday Mondays)
ACTIVITIES
Music, theatre and dance events are organised on a regular basis. Lecture series, screenings and literary activities are also common. For more details see their website.
HOME OF MARIANA PINEDA
Mariana Pineda was a heroine who fought against absolutism and in defence of freedom. Jtried and condemned in 1831 to death by garrotte, this Grenadian then became a martyr of liberalism. It was the inspiration for numerous songs and literary works, including Lorca's play "Mariana Pineda". The building was originally a 17th century courtyard house consisting of a ground floor and two upper floors. Due to its important symbolic and cultural value, the house was restored and put into use in 2003 as a European Centre for Women's Studies. The Mariana Pineda Historical Room contains more than 200 objects related to Mariana Pineda, including a replica of the flag and a documentation room, as well as an extensive bibliographic catalogue.
TICKETS AND TIMETABLES
Monday to Friday: 9:00 to 14:00 and

from 16:30 to 21:00
Saturday and Sunday: closed
Summer timetable (July and August): Monday to Friday from 9:00 to 13:30
CARMEN MAX MOREAU MUSEUM
Together and happy, after travelling around exotic countries, the Belgian painter Max Moreau and his wife, Felice, were fascinated by Granada. Such was their admiration and generosity for the city that after the painter's death (1992) they decided that his entire estate, including the beautiful Carmen de los Geranios, would pass into the hands of the city. Rehabilitated in 1998 by the City Council, this Carmen today constitutes an authentic oasis of calm and tranquillity very close to the tumultuous Plaza de San Nicolás. Max Moreau's is one of those museums in Granada that is full of charm and provides an insight into a typical Albaicín dwelling.
TICKETS AND OPENING TIMES
Admission is free. There are no activities.
Tuesdays

Saturdays: 10:30am-1:30pm and 6:00pm-8:00pm

Sunday and Monday: closed
MUSEUM HOUSE MANUEL DE FALLA
We will need to go up to the Alhambra and stroll through its lush forest to discover the modest carmen where Falla composed some of his works between 1922 and 1939. It is an evocative, silent place that guarded the intimacy of the great composer (Cadiz, 1876-Argentina, 1946). Objects, mementos, furniture… everything is exactly as Manuel de Falla left it when he hurriedly left Granada after the war. This carmen reflects the composer's modesty and the simplicity of domestic life in Granada during those years. Through a journey through time with joys and adversities, the guided tour unveils spaces and experiences and leads us to the terraced garden, a meeting place for artists. The Manuel de Falla House Museum will leave us with an unforgettable memory of the man who bequeathed us music for the soul.
TICKETS AND TIMETABLES
The entrance fee is €3 per person. Reduced prices are available for different groups.
From October to May.
Tuesday to Saturday: 10:00 to 17:30

Sunday: 10:00 to 15:00

Mondays and public holidays: closed
June and sSeptember
Tuesday to Sunday: 9:00 to 14:30

Mondays and public holidays: closed
July and August
Wednesday to Sunday: 9:00 to 14:00

Mondays, Tuesdays and public holidays: closed
MUSEUM HOUSE OF FEDERICO GARCÍA LORCA
One of the stations in Lorca's vast repertoire is undoubtedly the Huerta de San Vicente. This place of historical and literary memory was located in the fertile plain of Granada and today forms part of an enormous park that has improved the urban environment and brought plant beauty to a heavily anthropised place delimited by the ring road. It has been preserved as it is in terms of layout, furnishings, photographs and family memorabilia from 1918 to 1936. It is advisable to take a guided tour to discover situations, people and circumstances about Lorca's family and intimate life.
TICKETS AND TIMETABLES
The entrance fee is €3 and includes a guided tour of the museum (special prices for certain groups). Special opening hours at Christmas and Easter.
From 16 September to 31 May.
Tuesday to Saturday: 10:00 to 17:00

Mondays and public holidays: closed
From 1 June to 15 September.
Tuesday to Saturday:

From 9:00 to 15:00

Monday and public holidays: closed
MILL HOUSE OF ANGEL GANIVET
To visit this space we must go to the popular Paseo de la Bomba, next to the river Genil and go up the Cuesta de los Molinos. Originally it must have been a medieval mill that was supplied by the Gorda irrigation channel of the Genil and functioned as such until 1925. This house left a great mark on the work of the writer and diplomat from Granada, Ángel Ganivet, who lived here during his childhood and adolescence. Renovated in 1965, the house was recovered in 1995 and converted into a Provincial Documentation CentreProvincial Documentation Centre. Today the centre houses the collection of publications of the Provincial Council and the municipalities and a collection on Ethnology and Heritage.
TICKETS AND HOURS
To visit it is necessary to contact the institution: phones 958 247 395 / 958 248 286; e-mail: [email protected]
ETHNOGRAPHIC MUSEUMS IN GRANADA
Among the museums in Granada there are two ethnographic museums focusing on the gypsy ethnic group.
CUEVAS DEL SACROMONTE MUSEUM
We have to go up to Sacromonte to visit the Cuevas del Sacromonte Museum. As could not be otherwise, it is located in a group of caves. This museum highlights the way of life of the people of Sacromonte, mainly the gypsies. Here, living spaces, looms, forges, flamenco, etc. are reconstructed. The curious thing is that it is not so long ago that this neighbourhood changed. There are documents audiovisuals of Sacromonte in the 60's that will leave you in awe. The visit to the museum also involves the enjoyment of the fantastic landscape of the Darro Valley.
TICKETS AND TIMETABLES
The ticket costs 5 € and there are special prices for groups and schoolchildren.
Winter opening hours (15 October to 14 March): from 10am to 6pm

Winter opening hours (15 October to 14 March): from 10am to 6pm

Summer timetable (15 March to 14 October): 10am to 8pm
ACTIVITIES
Guided tours of the museum itself are available.
ETHNOGRAPHIC MUSEUM OF THE GYPTIAN WOMAN
In this unique museum you will learn about the way of life of the gypsy people, paying special attention to the role of women. It is a cave in Sacromonte converted into a house-museum. The different rooms show the rooms where people used to sleep, a loom, the kitchen, different tools and a main space for flamenco.
Eye, it is located within the complex La Chumbera, a municipal space at the service of flamenco where some amazing shows are held with the Alhambra as a backdrop.
TICKETS AND TIMETABLES
Monday to Friday: 10:00 to 13:00

Saturdays and Sundays: closed
*Opening hours of this museum may vary according to the season.
WANT TO DISCOVER AUTHENTIC FLAMENCO?
Click on the banner to find out more!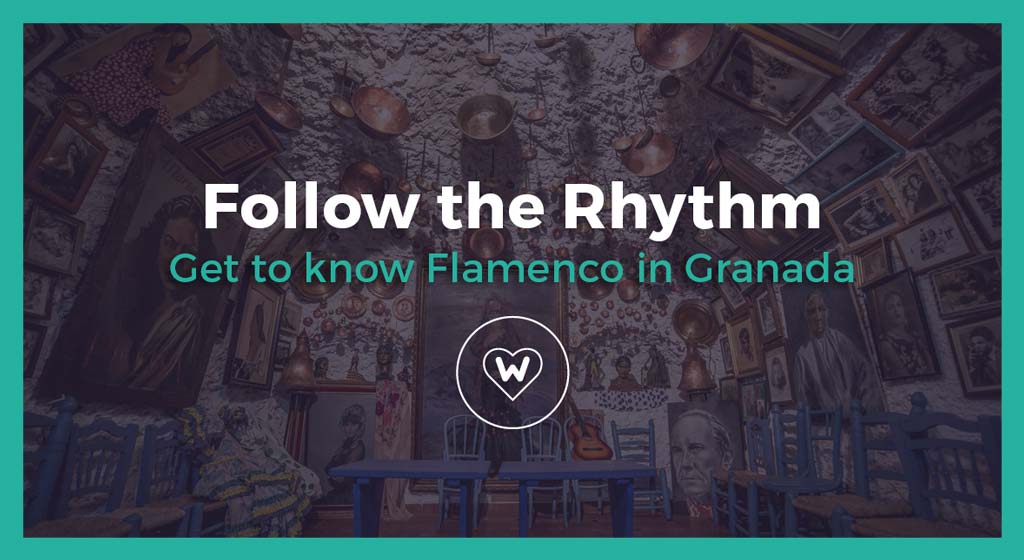 TEMPORARY EXHIBITIONS and VISITABLE COLLECTIONS
If you know all the museums in Granada that we have mentioned, we now present you with a whole series of places that usually host temporary exhibitions.
HOSPITAL REAL (ROYAL HOSPITAL)
Building began in 1504 by order of the Catholic Monarchs, but it was extended and modified in different styles reflecting the evolution of architecture from the 15th to the 18th century. Since 1971 the building has been used for university purposes, becoming the headquarters of the Rectorate, Central Services and the General University Library in the 1980s. This gigantic square, located behind the Triunfo gardens, has a large transept with four enormous halls that house large-scale temporary exhibitions.
PALACE OF CARLOS V
It was Charles V who in 1526 decided to erect this unique building next to the palatial area of the overthrown Nasrid court. However, ironically enough, it was not completed until the middle of the 20th century. It is easy to find old photographs showing the palace without roofs. It is interesting to note that, in addition to housing the Museum of Fine Arts and the Museum of the Alhambra, it also houses other spaces for the mounting of large historical and/or artistic exhibitions which, in general, have a direct relationship with the work, the past and the people linked to the Alhambra.
CULTURAL CENTRE GRAN CAPITÁN
Because of its workmanship and sobriety, it dates from the last third of the 19th century. It was used and enjoyed by the Little Sisters of the Poor, who used it for decades as a shelter and residence for the elderly and needy. The complex is composed of church, convent and hospital. Taking its name from the street where it is located, ait currently belongs to the city council and is used as a temporary exhibition hall.
PALACIO DE LA MADRAZA
The Madrasa Palace was the headquarters of the Muslim school of Koranic Law founded by Yusuf I (one of the main Nasrid sultans). It housed an important library that was burnt along with many other books in the nearby Plaza de Bibrambla. After the capture of the city, the building was converted into the Town Hall, where the Knights of the Twenty-Four who governed the city gathered. Like all historic buildings, it was later modified according to the needs and style of the time. It is currently the headquarters of various departments of the University of Granada. Temporary art and science events and exhibitions are organised here.
ARTISTIC, LITERARY AND SCIENTIFIC CENTRE OF GRANADA
It is a cultural institution of reference in the city of Granada originating in 1885. This centre is a generator of projects that promote and disseminate culture in its broadest sense and the culture of Granada in particular. It organises various activities such as conferences, concerts, exhibitions, courses and theatre. In its halls, located in the busy Acera del Casino, there are numerous exhibitions of the most varied nature and category. They are usually very popular due to their favourable location and interesting content.
CUARTO REAL DE SANTO DOMINGO
The Yannat al-Manyara al-Kubra or Huerta Grande de la Almanjarra, was an almunia located within the city walls. Some of its decorative elements date it to between the Almohad and Nasrid periods. At the time of its construction, El Realejo or al-Fajjarin (the potters' quarter in which it was located), was not completely built and had large areas of orchards. The Cuarto Real belonged to the Nasrid court, but after the conquest it was sold to the Catholic Monarchs, who ceded it to the Convent of Santa Cruz and, since the 19th century, it has been private property. In 1990 the Granada City Council bought it and began its restoration. It is now a place to visit where exhibitions are organised and conferences and seminars are held.
PALACIO DE QUINTA ALEGRE
To enjoy its architecture, gardens and views you have to go to Cervantes Avenue. Its construction, following classicist guidelines, was promoted by the Rodríguez Acosta family in the 1920s. Later, abandoned and neglected, it was restored by a workshop school and in 1993 it was ceded in its entirety to the Granada City Council, which rented it out for special events. It is also home to some of the works of the famous painter Gabriel Morcillo (1887-1973).
PALACIO DE LAS NIÑAS NOBLES
At the side of the Cathedral and at the heart of Granada's architectural heritage is this artistic building which housed the historic Escuela de Niñas Nobles. It dates back to the 16th century with later alterations. Its most valuable feature is its façade, with a beautiful balcony with Plateresque decorations. It has been renovated several times and is currently the headquarters of the Provincial Tourist Board of Granada and its main tourist information office, which houses an exhibition on the flavours of Granada.
CASA AJSARIS
The Albaicín is home to a house that has become the home of valuable pieces of Granada art. The collection ranges from the 16th to the 19th century. The Casa Ajsaris, owned by Juan Manuel Segura and his partner Francisco Jiménez, houses a collection of some 500 works of art by artists from Granada or closely related to Granada. Many of these works are unknown to the city: busts by Pedro de Mena, sculptures by Pablo de Rojas and paintings by Gabriel Morcillo. In order to visit this museum it is necessary to arrange a visit with the owners of the collection.
MAP OF THE MUSEUMS OF GRANADA
And here is the map so you can find all the museums in Granada.