Packaged travel proposals are not for you?
Our way of TRAVELING
Our proposal is simple.
You tell us what your ideal trip would be like and we will take it out of your mind and turn it into reality.
We offer you a totally personalized service and a unique Bespoke Trip in Andalusia. You will get professional advice and a permanent one-to-one communication that will make your trip truly unrepeatable.
– IN PRIVATE GROUP –
You will travel exclusively with whomever you choose, either alone, with your partner, family or group of friends. You will function as a true team by having greater freedom, flexibility, decision-making ability and a closer and more personal relationship with the environment around you.
– BY TRAIN OR PRIVATE TRANSPORT –
To get around, we use public and private means of transportation that pollute as little as possible. In private vehicles a professional and experienced chauffeur will be in charge of transferring you from one destination to another.
– BY EXPERT LOCAL GUIDES –
You will meet different local guides who will be waiting for you in the destinations you are going to discover. They will be in charge of guiding you, telling you the history and showing you the highlights and authenticity of each place.
– IN A SUSTAINABLE WAY –
We work as much as possible with sustainable suppliers: transport, accommodation, restaurants and other local actors who share our philosophy of sustainability and responsibility.
Explain to us the idea of that trip that is on your mind. We want to get to know you as well as possible in order to offer you the proposal that best suits your preferences, budget and travel style.
After receiving your form we will get to work on a free draft of what your trip could look like. A few days later, we will arrange a date and time to present it to you by video call or telephone.
Time to get to know each other and present our first travel proposal. We will share opinions, discuss alternatives, clarify doubts and continue to shape your trip. This is where the magic begins.
If you are convinced by our proposal and you want us to be the designers of your Bespoke Trip in Andalusia, we will ask you for the first payment. Once we receive it, we will get to work on your travel plan.
During the final design process we will keep in touch with you to present possible changes until we create your ideal trip, the one you really want.
Once everything is ready we will let you know so that you can pay us the remaining amount. The end result is a 100% personalised journey that we will deliver to you in app, web and pdf format.
Exploring
the real Andalusia
Andalusia is full of culture, art and passion. Corners full of light and joy,
castles from bygone eras, magical flavours
and paths to lose yourself in and find yourself again.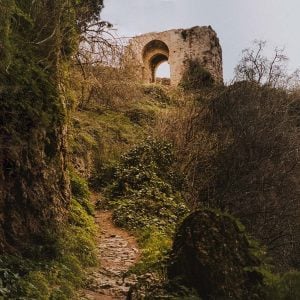 Would you prefer to contact us by phone?
Mon-Fri: 10:00 – 14:00 / 16:00 – 20:00 (GMT +02:00)
Saturdays and Sundays closed
FAQ – Frequently Asked Questions
Here you will find the answers to the most frequently asked questions about our tailor-made trips in Andalusia
Who are you behind all this?

Behind all this we are Mikael and Jose and a lot of good people and great professionals (local guides, mountain guides, heritage interpreters, artists, craftsmen and other collaborators) who make this exciting project possible. Visit our "About us" page to find out more about us.

Do you know all the destinations in Andalusia?

It would take more than a lifetime to get to know every corner of Andalusia completely.
We are passionate about our land and have been travelling for many years in order to have the most complete vision possible of all that Andalusia has to offer.
In tailor-made trips we will always offer and advise on destinations that we have previously visited.

Are you going to show me the real thing in each destination or just the touristy things?

Our priority is to show you the authenticity and genuineness of each destination you visit.
We also understand that there are cases when a monument or a city is touristic and there is a good reason for it. In such cases you may not want to miss it.

What kind of trip will I get if I contract it with you?

The only condition we make when designing trips is that they are as sustainable and respectful of the local environment as possible.
Our trips focus on showing you the highlights of each place you visit, bringing you into contact with local people and customs. From there, any kind of journey is possible.

We do not work with flights, so you will have to make your own arrangements.
For the rest, you can rest assured that we will take care of coordinating and managing all the services you have indicated to us.
In addition to personalised attention during all phases of your trip, you will receive the programme in app, web and pdf format so that you can consult it as often as you like.

The app will be your perfect travel companion. You will find all the important information about your trip centralised in a single place: itineraries, documentation, day-to-day information, accommodation, restaurants, timetables, etc. ….
You will also be able to communicate with us and your local guides directly and conveniently through the support chat.

Will everything work out perfectly?

For our part, we can guarantee that we will put all our experience and effort into making sure that everything is well organised.
Needless to say, perfection, besides not existing, can be very subjective. On a trip there are always external factors such as weather, health or possible accidents that no one can control.

What do I do if there are any unforeseen events during my trip?

If it is a positive event, you can just enjoy it.
If it is of another type, you can always count on us and we will solve it as soon as possible.
All our trips are covered by travel insurance that will cover the vast majority of those unforeseen events so you can focus solely on travelling.

How much is the first amount to be paid?

The first payment is a fixed amount of 250€ which covers part of the time we invest in designing, shaping and presenting you with a result that is 100% tailored to your tastes.

What happens if I do not make the final payment?

That you will not receive the most important information that guarantees a high quality trip. You'll get the route but you'll miss the essence of our work and the value of a trip designed 100% to your liking.

Is there a return option?

The first payment of €250 is non-refundable as it is intended to cover part of the time we have spent designing your trip.

We understand that an unforeseen event can happen to anyone, so the remainder of your trip will be refundable if you give us enough notice to allow us to cancel all booked services.
For more peace of mind, please see our Cancellation Policy and Terms of Service. HERE

Can I ask for a review of my trip?

Of course you can, we won't stop until we deliver the trip that meets all your tastes and values.
Remember that we will be in touch during the design process where you can add your own ideas and change anything you don't like.

What are your contracting conditions?

You can consult the terms and conditions HERE
Live Andalusia
"A journey is lived 3 times: when we dream it, when we live it and when we remember it".
Anonymous
TRAVEL SAFELY
What about
Covid-19?
Despite the uncertain times we have been through, many of us are still eager to travel. Although nothing is certain, with advances in vaccination and the evolution of the virus, the situation seems to be improving step by step. In the meantime, we will have to adapt to the circumstances and measures of the moment in order to fulfil those travelling dreams.
So that you can travel with as much peace of mind as possible, we always include travel insurance to cover any possible unforeseen event. We keep up to date with new measures being adopted by countries and will keep you informed at all times.
Tailor-made trips through Andalusia with a sustainable soul
Did you know that by booking any of our experiences in Andalusia you are helping to reforest damaged natural areas?
For each trip we donate a small ecological fee to non-profit organisations, so that they can continue their excellent work of reforestation. Thank you for contributing to a greener Andalusia.