Where to eat in Granada

Granada is a great place to eat. A varied gastronomy based on fresh and quality products is waiting for you. Here you will find all the information about the gastronomy of Granada and the best selection of bars and restaurants in the city. Discover the best places to eat in Granada, sink your teeth into the one you like the most and start to savour Granada.
The most chic restaurants in the center
Bars and wineries with a lot of history
Restaurants overlooking the Alhambra
Best vegetarian and vegan restaurants
GASTRONOMY OF GRANADA
0. Before You Begin




Do you know what to eat in Granada?
Are you a foodie? Do you want to discover the authentic gastronomy of Granada?…the one you've always had?
Fresh local produce and recipes passed down from generation to generation.
Discover the history, the flavours and the most characteristic dishes of Granada.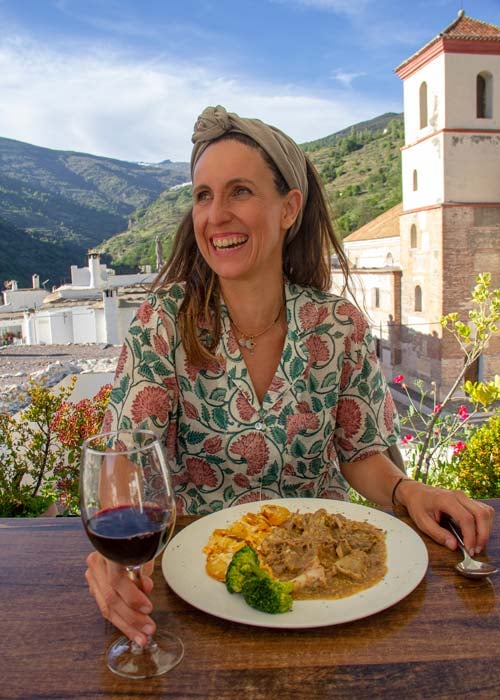 Thinking about where to eat in Granada, are you more of a bar person or a restaurant person… they say that variety is the spice of life. That's why we have prepared this selection of the best bars and restaurants in Granada. If you like to eat really good food, this is your section.
Choose your favorite place and don't miss the authentic taste of Granada.
TAPAS IN GRANADA
1. Shall we go out for
tapas?
Tradition, variety and quality
Tapas are one of the best known Spanish customs all over the world. In Granada, this statement is even stronger because, unlike other cities, here they are completely free of charge. They may be better or worse, big or small, but almost all bars in Granada will offer you something to eat with your drink. If you are visiting Granada, going out for tapas is almost as essential as visiting the Alhambra or getting lost in the Albaicín. To make your life easier, discover our selection of the 6 best bars in the centre of Granada where tapas are a real pleasure.
RESTAURANTS IN GRANADA CENTER
2. The + restaurants
downtown chic
Central, modern and tasty

Did you know that Spain is the country with the most bars and restaurants per person in the world, and Granada is no exception. It is impossible to compile them all and there are many good ones that are unfortunately left out of this selection. If you are thinking about where to eat in Granada, here are the 6 most chic restaurants in the city centre. All of them stand out for the quality of their dishes, good service and a modern and cosy design. Here you will find the best Mediterranean and European cuisine and the best meat specialists. You can't miss the best wines, both local and national, to turn your lunch or dinner into a complete gastronomic experience.
BARS WITH A LONG HISTORY
3. Traditional




pubs and bars
Authentic, historic and with personality

Our beloved taverns! Those spaces that, like good wines, become more and more valuable as the years go by. Places that hold a little piece of our history and thousands of stories in turn, let's hope they never get lost! Whether to enjoy the tapas of Granada accompanied by a good wine or a cool beer, or to sit at the table to savour the food of a lifetime. Without a doubt, these little treasures are a great choice. If you are like us, you like places with their own identity and a lot of history, don't miss this selection of the 6 best traditional taverns and bars where to eat in Granada.
RESTAURANTS OVERLOOKING THE ALHAMBRA
4. Dining with the best views
of the city
Romantic, unique and with a view
What would Granada be without the Alhambra? Undoubtedly one of the most beautiful monuments in Spain, if not the most beautiful. The best views of the Red Castle are right in front of it, on the hill of the Albaicín, the most historic quarter of Granada. Perhaps a romantic dinner, a special occasion or just for the sheer delight of enjoying the best views of the city. If you are visiting Granada, don't miss the opportunity to eat in one of these authentic Granadian cármenes located in front of the Alhambra. Discover our selection of the 6 best restaurants where to eat in Granada with views of the Alhambra and get ready to live a unique moment.
VEGETARIAN RESTAURANTS IN GRANADA
5. You are a Veggie
lover?
Tasty, healthy and different

It is well known that food is the key to good health, and who said that not eating meat or fish is boring? There are more and more people who are joining a lifestyle where there are no animal products. Did you know that in Granada there are real specialists even in vegan tapas? Delicious, elaborate and quality dishes that will surprise even the most carnivorous. Delicious desserts that you'll never want to run out of. For all those "veggie lovers" we have prepared this selection of the 6 best vegetarian or vegan restaurants and bars where to eat in Granada.
RESTAURANTS IN GRANADA WITH TERRACE
6. Savouring
the outdoors
Exclusive, spacious and open-air

Looking for a good terrace to eat on in Granada? To be able to savour a delicious meal, in good company and on a nice outdoor terrace, certainly appeals to everyone. Normally restaurants and bars in Granada have a few tables outside, but it is not very common to find large terraces in the middle of the city. However, as they say, he who seeks will find. For this reason, we have selected 2 restaurants in the Albaicín, 3 in the city centre and one especially recommended if you come to visit the Alhambra in your own vehicle. 6 restaurants where, in addition to quality, you'll find a terrace you won't want to leave.
Are you still
in doubt?
We are sure that with this selection you will have found the perfect place to eat in Granada. But if you're a restless soul and want to investigate further, take a look at Trip Advisor.
Planning your trip
to Granada?
If you have already decided where to eat in Granada, don't miss all the activities that this wonderful city has to offer.