Private tour to The Alhambra and The Generalife.
Are you looking for an exclusive visit to The Alhambra? The best way to get to know it is with this Private Tour in a small group.
You'll be guided by expert connoisseurs of The Alhambra and the Andalusian culture, who will narrate the history such as it was, without any tricks and with a personalized treatment.   
Whether it's your first time, or whether you've been before, this is an essential visit in Granada. The Alhambra is not only a castle. It's a city of fortified palaces from where an entire kingdom was ruled. 
You'll discover the history of the last Islamic kingdom of the Iberian Peninsula. And you'll get to know the sublime Andalusian art in the Nasrid palaces. This monumental complex declared a World Heritage Site hides plenty of surprises and amazing corners.
Get into spaces full of poetry. With plaster works full of praise and poems from renowned Andalusian poets. Among other places we'll visit the most symbolic dwellings of The Alhambra; The Lions' Courtyard, The Partal, The Generalife Gardens and The Alcazaba.
We'll let ourselves be swept along by the gardens' fragrances and stroll between ponds and fountains from which water flows with subtle beauty.
Forget the queues, the overcrowded groups and arranging for your tickets to The Alhambra. Leave it in our hands.
Do you want to get to know the magic of The Alhambra along, exclusively with your family or friends?
Do you want to book your private tour to the Alhambra now?
Do it with 100% safety and with immediate confirmation.
Do you want to exchange a gift?
Click on the button and enter your code.

Prepare your visit
Have in mind this information and suggestions before starting

Why will you like it?
Private Tour through the crown jewel of Nazari art.
Small groups to make your experience closer and safer.
It's a small group so that your visit is more intimate.
Avoid long queues.
Expert local guides.
The guided tour is done just in one language.
If you have any questions, contact us and we will solve it immediately.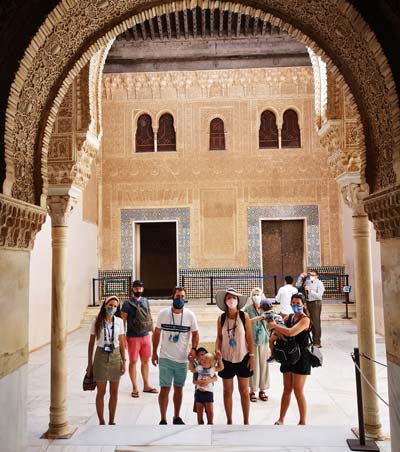 Everything was perfectly organized by Andalucía 360. They provide us the tickets and we entered directly without waiting long queues. Our guide, Sabina, has a very high knowledge of the Alhambra, its history and many interesting anecdotes.
Emma and Gianma
- Between Spain and UK
You may also like
If you are in the city of Granada, you can continue enjoying experiences like these.
Don't leave without trying them