In this post you will discover the most interesting contents of the Science Park of Granada (Parque de las Ciencias de Granada). We will give you some tips on how to organise your visit, opening times, prices and everything you need to spend a great day at the Science Park.
This living museum is a great option for a family visit. If you don't know what to do these days in Granada, this is a good plan to learn and enjoy for both children and their companions. In the museum you can see different exhibitions, interact with many of them and attend different workshops that are organised daily.
The museum's motto says it all "No touching is forbidden"
IF YOU LIKE MUSEUMS YOU HAVE TO READ THIS ARTICLE
What to see in the Science Park
The contents of the Park revolve around various branches of science: the animal world, the human body, astronomy, geology, botany, etc. Everything to do with science and culture has its place. The Science Park has several permanent exhibitions, other temporary exhibitions and workshops.
We are not going to collect here all its themes and activities, as there are many of them (for that you can visit the official page). We will recommend you some of the most interesting and fun things to do with your family.
Birds of prey workshop
Undoubtedly one of the star attractions is the Birds of prey in flight workshop. Unlike the sound show that you can see in some zoos, here there is a deep respect for the animals. You will be able to see vultures, eagles, owls and other birds of prey up close. The instructors are very knowledgeable about these animals and will tell you many secrets. If you position yourself well, some of the birds of prey will fly within a hand's breadth of your head. Arrive early, as this workshop is usually very busy and it is not good to have movement while the birds are in action.
Museum's attic
If you go with very young children you must visit the Museum Attic (1 to 3 years old). A space full of curiosities to explore and discover by participating. Touching the jaws of a shark, learning about different rocks and minerals, investigating insects and other unusual things that will arouse everyone's interest. It is also a good time for grown-ups to take a little break, as the children will have a great time here.
Explora Room
The Explora room (for children from 3 to 7 years old) is a must for the little ones. Here they will give free rein to their creativity by interacting with a multitude of elements. They will work with elements such as water and air. They will develop their perception using touch, sight and hearing. They will be able to play and learn with magnets, robots, etc. The interests of early childhood define the three lines of work in the room: their body, their environment and machines.
During the week, the room is reserved for school groups, except during holidays. If you want to visit it, you should go on weekends or holidays.
Planetarium
The Planetarium is another great activity. Here you can visit the sky by immersing yourself in a spectacular dome with a full dome video. The different sessions, which last between 25 and 40 minutes, will not leave you indifferent, but beware, groups tend to fill up quite quickly as seating is limited. For the little ones, they have installed a very entertaining inflatable planetarium. In these time machines we can travel light years through the universe and get to know the firmament.
Mariposario
The Mariposario is a small but very popular space. It is an enclosed place with a tropical climate where, with patience, you can get a large colourful butterfly to land on your hand. Butterflies were already living in the time of the dinosaurs. It is one of the insects with the most species in existence, it is estimated that there are more than 200,000. This is even more evident when compared to mammals, of which there are about 4,000.
Biodome
In recent years an important extension has been carried out, the so-called BioDome. This is a kind of miniature zoo which, although its motive was conservation and awareness-raising, has not been without controversy. It recreates the climate of the tropical belt and contains more than 250 species of animals and plants. In this video they explain it better than we can.
Organise your visit
As there are many things to see, it is important to plan your visit well. To better organise your time, be clear about your priorities and check the timetable of the workshops on arrival. We recommend organising your visit around the workshops and the planetarium, as these are the ones with set timetables. Although the space is large, you can get from one end to the other in 5 minutes, so you will be able to move around the park easily.
If it's your first time, don't rush to see everything, as you won't be able to and won't enjoy each of the exhibitions. The ideal is to repeat another time, the Parque de las Ciencias will not go away and is always changing.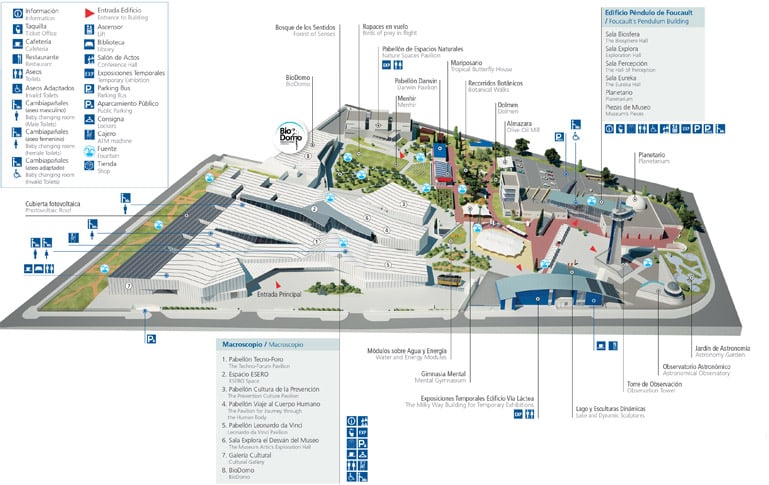 If you want more plans for your stay in the city, we recommend you to visit our What to do in Granada page. And if you need a guided tour of this fantastic city in Andalusia 360 we are experts in Granada.
Where to eat
To eat in the Park there is a bar-restaurant of average quality and reasonable price. But if the weather is good, it is best to bring a good picnic which you can enjoy in an outdoor area. Outside the Park, continuing along Calle José Luis Pérez Pujadas, there are several restaurants where you can eat well.
A break
Time flies here, but sometimes you need a break. You'll find armchairs in many places in the park. But if you want to have a coffee, don't miss the cafeteria in the Macroscopio building. It's a little-known space due to its location at one end of the module, but here you can relax in a modern room with comfortable leather sofas and board games for the little ones.
More information
Timetable
Tuesday to Saturday: 10:00 a.m. to 7:00 p.m.
Sundays and public holidays: 10:00 to 15:00
Monday: Closed
For special opening hours, please consult the official website.
Fees
Museum, Biodome and Planetarium are paid separately and each space has 3 types of tickets: general, reduced and school. Prices range from €5 for schoolchildren to €7 for general admission, plus the Planetarium and Biodome.
How to get there
It is very close to the motorway. The best option is exit 128 for "Méndez Nuñéz", although exit 130 for "Armilla" is also the best way to get there. It has its own car park for a very reasonable price, 1 € for the first three hours.
CONTINUE DISCOVERING GRANADA