The relationshipbetween Málaga and Pablo Ruiz Picasso (1881-1973) is much closer than some people think. By now we all know that Pablo Picasso was born in Malaga and spent much of his childhood here. However, in January 1901 Pablo left Malaga and never returned.
Playing with his friends, attending painting classes, running errands for his family or going to school, Pablo walked the streets of the centre of Malaga as a child and adolescent. In this article we will take a look at the places linked to the painter's life in Malaga. We will provide you with information so that you can organise a Picasso route for yourselves.
The year the Spanish Civil War started, 1936, Pablo Picasso said this:
"I was born of a white father and a small glass of water of Andalusian life,
I was born of a mother daughter of a fifteen year old daughter born in the Malaga of the Percheles,
the beautiful bull that engenders my forehead crowned with jasmines"
LA MALAGA IN THE LATE 19th CENTURY THAT PICASSO KNEW
It was a prosperous city with a great commercial and port activity derived from the iron and steel industry and agriculture. The capital city spearheaded and led several of the liberal movements that were so common in the 19th century. A few years before Picasso was born, the social and economic crisis began to become evident. Malaga declared itself an independent canton in 1873 and the commercial decline began. And it was precisely in the last decade of the 19th century that the city began to invest in an incipient tourism.
The commercial activity of the port and the flow of foreigners also led to the existence of an important pirate life: prostitution, drugs, gambling, revelry and parties. Many authors reflected this situation, among them Manuel Blasco, Picasso's cousin. This kind of life also marked the Malaga painter's childhood.
In 1884 there was a great earthquake that claimed numerous victims in the provinces of Granada and Málaga. Pablo was only 3 years old, but as an adult he remembers the event. The upper part of the towers of the church of La Merced collapsed and he and his family moved temporarily to the house of the painter and friend Antonio Muñoz Degrain. It was precisely on that day that his first sister, Lola, nicknamed "Terremotico", was born.
PICASSIAN ROUTE THROUGH MÁLAGA
Below, we set out a route in chronological order, although some of the places were present in Picasso's life over several years, not just at one particular stage. Don't miss the end of the post, where we include a map of Malaga with the location of all these places and with which you can organise your real Picasso route.
CASA NATAL Y PLAZA DE LA MERCED
He was born in the central and popular Plaza de la Merced (then called "de Riego"), in the bosom of a bourgeois liberal family. He lived in two houses in this same square for the first 10 years of his life, during his entire stay in Malaga (1881-1891). During this period the monument to Torrijos was already built, the square was laid out as it is today and the pigeons that inspired his first drawings were already fluttering around the obelisk. Here he grew up surrounded by women: mother, sisters, grandmother and aunt. The first floor of number 36 is now the Fundación Picasso, Museo Casa Natal. You can visit it to see drawings, books and other pictorial works not only by Picasso, but also by his father and other related artists. One of the curiosities is the variety of photographs and personal objects that link Picasso to Malaga.

It is open every day from 9:30 am to 8:00 pm, except on special Christmas dates. The entrance fee is €3 and there are reduced and free tickets for different groups.
Near the doorway of his house there is a bronze sculpture of Picasso at an advanced age. Everyone comes up to take a photo and touch the artist's head. This seated statue by the sculptor Francisco López Hernández could evoke the longing for what Pablo wished for all his life: to be able to return to Málaga to enjoy his homeland. And if you pay attention to what he holds in his hands, you will understand why the young Picasso often came down to this square, and not just to play.
CHURCH OF SANTIAGO APÓSTOL
In this church, one of the first built by the Catholic Monarchs in Malaga, the artist from Malaga was baptised. His parents were also married here: José Ruiz Blasco and María Picasso López. As a curiosity, this church still preserves the Malaga painter's baptismal certificate. Take advantage of the free admission and take a look at the birth certificate. You will discover what name Pablo Ruiz Picasso was actually baptised with. The church hhas been recently restored and we visited it in the heart of Malaga, one of our guided tours of the city centre. As a reminder, please keep quiet inside, as it is a place of worship.
THE HOUSE OF THE BLASCO-ALARCÓN, THEIR FATHERS
At number 6 Calle Tejón y Rodríguez lived the cousin of Picasso's father, Juan Nepomuceno Blasco Barroso, and his wife, María de los Remedios Alarcón. The relationship with these relatives was close. They were godparents of the painter, and so, after the christening, the reception was held at their home. They were also godparents at the wedding of Picasso's parents. The building has recently been restored as a block of flats.
THE FIRST PICASSO PICTURE, PLAZA DEL TEATRO
Francisco Martín Ramos, a professional photographer who also had four children, the Martín Oliver family, had his photography studio in the Plaza del Teatro. Francisco was born in Pruna (Seville) and came to Malaga at the age of 20. At number 36 of this square he set up his famous photography studio, where he portrayed Pablo Ruiz Picasso when he was only 4 years old.
THE JEWELLERY OF BALDOMERO GHIARA
In Granada Street itself, very close to the church where the young Picasso was baptised, Baldomero Ghiara del Peral had a jeweller's shop. He married a cousin of Picasso's mother. Their daughter, Amalia Ghiara Picasso, in turn married a young businessman named Federico Sierra. Both families helped the painter financially and maintained a beautiful friendship. In fact, Pablo Picasso dedicated a painting to Amalia ("Evocations"), which he later donated to the Museum of Fine Arts in Malaga.
MUNICIPAL MUSEUM ON SAN AGUSTÍN STREET
The Malaga Town Hall was located in the old college of San Agustín in the 1980s. The institution itself was the custodian of the Museo Municipal de la ciudad, of which his father was the curator and where he had his painting workshop. This was another of the places frequented by the young Picasso.

SAN RAFAEL'S COLLEGE
Picasso's route through Malaga must pass through his first school. The old San Rafael school was located at number 18 Comedias Street. This private school was located in a building that is still preserved today as a block of flats. Carmen Mendoza, a maid who would later become one of his first models, was in charge of taking him to school. His time here was not very pleasant and he was always afraid that he would not be picked up from school and he invented strategies to make them come back for him.

LA MALAGUETA (the bullring)
The fascination for the bullfighting world is a constant in Picasso's life. While living in Malaga, Picasso used to visit the Malagueta bullring with his father and uncle. He was only a child at the time, but his first oil painting, the Yellow Painter, dates from this period. This is a small painting on panel which, curiously enough, is the lid of a cigar box. Although Pablo Picasso left Malaga early, he continued to visit the bullrings of Arles and Nîmes. In one of his drawings he wrote:
"Bulls are angels that wear horns"
SAN TELMO SCHOOL OF FINE ARTS
Picasso's father, José Ruiz Blasco was, among others, professor of Linear Drawing and Adorno at this important institution in Malaga. Here he had an office that Pablo used to visit. He himself acknowledged that this place, which had no special conditions, generated a powerful attraction for him. By the time Pablo Picasso reached the age when he could study there, they were no longer living in Malaga. It is located in the central Plaza de la Constitución and today houses the Ateneo.
On the tour it is possible to visit the ground floor and the first floor, where some of the classrooms of the old school were located. Visiting hours: Mon – Fri from 11.00 to 13.30 and from 18.00 to 22.00. Admission is free. If you like art, this is one of the places you must visit in Malaga.
THE BEACH AND THE PORT
The trades attracted the attention of little Pablo. Among them, the cenacheros (fish sellers) and the jabegotes (fishermen). In his childhood he used to go to the Malagueta beach to see how the jabegotes collected the flakes, mended their nets or went out to fish in the typical Malaga seines. A drawing of an "cenachero" painted years later in Barcelona has survived.
At the age of only nine, he also painted an oil on panel of the port of Malaga copied from a painting by his father, 'Twilight in the Port of Malaga'. A year later, when he was 10, he set off with his family from this same port for La Coruña.
INSTITUTO GAONA
At the Gaona Institute, today called IES Vicente Espinel, he studied his secondary studies. Here he took his last examination in Malaga in June 1891. Afterwards, Pablo Picasso left for La Coruña to begin a new stage in his life.

SCIENTIFIC, LITERARY AND ARTISTIC SCHOOL OF MÁLAGA
At the beginning of Marqués de Valdecañas street you will find the current Conservatorio de Música María Cristina. In the past, the building was the headquarters of the Liceo Científico, Literario y Artístico, an institution founded in 1856 and which attracted the best artists who lived in Malaga. It was the venue for gatherings, exhibitions and music and dance concerts. Picasso became acquainted with the work of great painters there and, on one of his visits to Malaga, he was honoured at the age of 16 for his success with Science and Charity (see the work below). The prize he won for this classicist painting marked the beginning of his success. (see below).
Accessing the Plaza de San Francisco you will find several plaques commemorating various artists linked to the city (mainly musicians and painters), including Pablo Picasso.
It can be visited from Monday to Friday from 9:00 am to 9:30 pm; and on Saturdays from 10:00 am to 2:00 pm and from 4:00 pm to 8:00 pm. The visit is free and free of charge.
THREE NATIONS HOSTEL. PICASSO'S LAST VISIT TO MÁLAGA
At number 16 of the old Casas Quemadas street, today Marín García, was the hostel "Las Tres Naciones". From then until the present day it has been a popular street, although today it has almost been completely invaded by restaurant terraces. In 1900 Picasso returned to Malaga accompanied by his friend Carles Casagemas (poet and painter) and they stayed at this inn. Initially they had problems to stay there because of its bohemian aspect, at the time Picasso was almost 19 years old when he had just turned 19. During his stay in the city he tried to get his uncle Salvador Ruiz to lend him money to avoid military service, which he failed to do because of their bad relationship. He left Malaga in a deep depression and this was the last time Picasso was in Malaga.

SHIPWRECK ON THE EAST QUAY
During Picasso's last stay in Malaga, he witnessed the sinking of a German frigate off the coast of Malaga. On that day, 41 crew members died on the Gneisenau, the name of the German ship. He captured this event in a small, quick sketch that can be seen in the Fundación Casa Natal. The story of this tragic event is told in Paths of mystery, you can also read it in the post about the English cemetery in Malaga.
CAFE SPAIN
This centrally located café in Plaza Constitución was frequented during Picasso's last visit to Málaga. His friend Casagemas made a charcoal drawing of the café, although we have not found it to show it. The Café España was very close to the San Telmo School of Fine Arts mentioned above.
"I have never forgotten Spain. And living abroad you become even more Spanish"
MUSEO PICASSO IN MÁLAGA
This would be the last stop on the Picasso route through Malaga, although we dedicate a special section to it because of its importance. The Renaissance Buenavista Palace was the site chosen for the construction of the Picasso Museum. Previously, it was the seat of the Fine Arts Museum of Malaga. Here, beyond the artistic aspect, the legacy that the genius from Malaga left to his homeland is presented. This museum has become a real revulsive for the city and attracts thousands of visitors every year.
MUSEUM COLLECTIONS
The Museum has two collections. The main one is that of Pablo Picasso, whose fundamental contribution came from his family, so most of the works are related to relatives or friends of the painter. The main nucleus consisted of 200 works that remained in his possession. To these have been added different works from different sources.
But the Museum has a secondary collection, the Otero Fund. The journalist and photographer Roberto Otero established a close friendship with the artist in the last years of Picasso's life. This collection is made up of just over 1,500 documents, mainly images. In them we see an artist Picasso engrossed in his art, but also in his everyday life, surrounded by friends and family.
THE PERMANENT EXHIBITION
One of the peculiarities of the Picasso Museum's exhibition is its dynamism. From the outset it was conceived as a changing exhibition, one that would evolve over the years. This is what Picasso, insatiable for innovation, would have wanted. From 2003 to 2021, the exhibition discourse has changed six times. If you visited the Museum years ago, it will continue to surprise you now. This means that it is always a good time to visit the Picasso Museum in Malaga.
THE ARCHAEOLOGICAL SITE
Underneath the Museum lie the rests of the Phoenician city, which are also open to visitors. These are the remains of the first city of Malaga. There are also remains from the Roman period and from the house that was located there in the 16th century. But that is a story we will tell you another time.
ORGANISE YOUR VISIT
PRICE: The price varies throughout the year, as it normally includes access to the permanent exhibition and one or more temporary exhibitions. It ranges from €8 to €12 and includes an audio guide in several languages, and there are reduced rates for different groups.
HOURS: The Picasso Museum in Malaga opens every day at 11.00 am and closes between 17:00 and 19:00 depending on the time of year. It also has special opening hours at Christmas, so we recommend you check them on the official website.
MÁLAGA IN THE WORKS OF PICASSO. HIS ART
In this post we wanted to talk mainly about Picasso's relationship with Malaga. That is why we are not going to tell you about his works of art in general, but about the references to Malaga in Picasso's art.
Malaga is sun, light and blue skies; it is Mediterranean and seafaring culture, it is colour. All art historians agree that Picasso's work is strongly influenced by his native city, despite the fact that he only lived there for a few years. After his departure, he continued to nourish himself in France and Italy with Mediterranean culture. His visit to Italy was partly the reason for the beginning of his classicist period.
No Malaga, no bulls, no nothing!
This was one of Pablo Picasso's phrases when he was angry, which he took from his father. It reminds us of his longing for his homeland.
Picasso always had Malaga in his heart, it was a recurring theme in his conversations with family and friends. In some of his texts, especially from 1935 onwards, his scholars have seen a series of symbols that can be related to the city of Malaga: the key of his Malaga eye, the jasmines, the black sand of Malaga beach, etc. These are not direct mentions, but they reflect Picasso's longing to return to Malaga. There are also more direct references, as in his "Bodegón Español", a fully cubist painting from 1912, in which he depicts a bottle of brandy from Ojén (a town in Malaga). Also in "Naturaleza muerta con botella de Málaga" (Still Life with a Bottle of Malaga) of 1914.
In Malaga he picked up his first paintbrush. It was here, at a very early age, that he began his relationship with painting. As we have mentioned, his father was a teacher at the School of Fine Arts, but also curator of the Municipal Museum. Pigeons, another of the themes present throughout his life, also originated in Malaga. Not only did they flutter in front of his childhood home, but his father was famous for painting these animals. In fact, in 1949, Picasso received a commission for the First World Peace Congress. It was then that the dove designed by the painter became the symbol of world peace.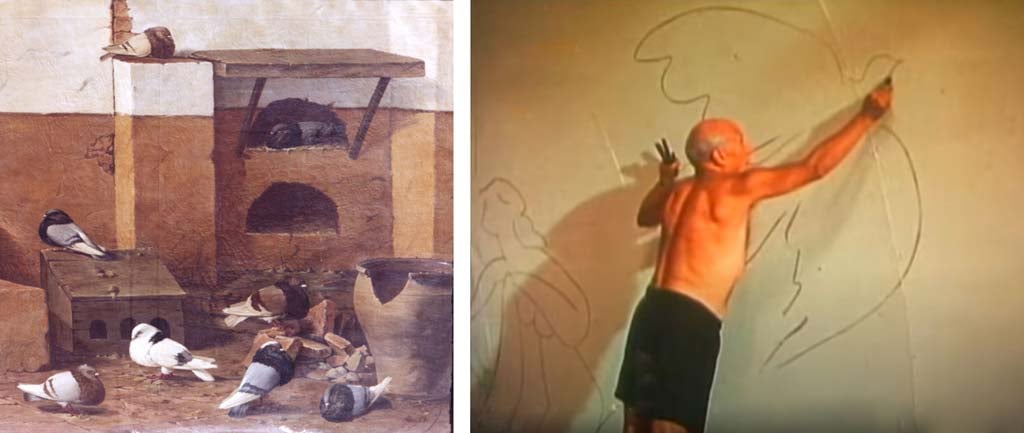 Bullfighting is very present in his work and the first contact with this world was in Malaga. His paintings are the best known, but bulls and picadors are present in his engravings, sketches, drawings, ceramics, etc. In the summer of 1896 he returned to Malaga and during his stay he painted bullfights. As we saw above, his passion for bullfighting was forged in his childhood with his father and uncle. Over time he became a great connoisseur and defender of the bullfighting world. 
PICASSO THE ICONE
Picasso's success began early. At the age of 16, one of his paintings, "Science and Clarity", was awarded a double prize in Malaga and Madrid. His teacher, Martínez de la Vega, predicted a promising future for him at a festive event at the Scientific, Artistic and Literary Lyceum.
At the age of 25 he was already an established artist, but he was not satisfied with the success and fame he had achieved. He worked almost constantly. His most complete catalogue of works (compiled by Christian Zervos) includes 16,000 paintings, drawings and illustrations, engravings, ceramic objects, etc.
"I paint as I breathe. When I rest, I work"
Always an innovator, he is considered, along with Georges Braque, creator of the first of the avant-garde movements, the Cubism. His fame transcended oceans and the covers of Life, Time and Look, among others, only enhanced his figure.
In 1998 an exhibition of 300 works by Picasso was held in Venice, which beaten the record number of visitors in Italy and at the time had the most expensive insurance ever taken out. Picasso is the most prolific artist in history, appearing even in the Guinness Book of Records.
Genius, idealist, republican, communist, bullfighter and very Spanish. Picasso's dream of returning to his beloved Malaga was cut short, as he would die only two years before the Spanish dictator Francisco Franco.
"If Franco dies, I'm in Málaga tomorrow,
but I want to go back to the city I left in my childhood,
free and where people could be themselves"
GUIDED TOUR OF PICASSIAN MÁLAGA
If you want a private guided tour with a Picasso expert "Contact us". If you prefer other kind of tours, we are specialists in Malaga.
PICASSO'S MAP OF MÁLAGA
Finally, take a look at the following map of Picasso's Malaga, which will help you to organise your own visit.
Did you like the article? You will see that this is not your typical post to attract visitors, we have spent a good deal of time documenting the relationship between Picasso and Malaga. You can trust what we say here, we are professionals in History and Art. Would you like to give us a hand?, share it with people who might be interested, comment on it and help us to improve.
THANK YOU
As always we have to thank the people who make these articles possible. Isa Martín, one of our fantastic official guides in Málaga and an expert on the life of Picasso, has helped us with the content. With the photos we have been helped by Mónica López from the Ateneo de Málaga, Flor Gómez from the Fundación Unicaja and Pepa Babot from the Picasso Museum.
For further information we recommend you consult any work by Rafael Inglada or Eugenio Carmona. Further information can be found in the works of Rafael Inglada or Eugenio Carmona.